If you were to find yourself back in the spring of 2000 at The Practice Pad in Glasgow, what kind of reaction do you think you'd get when you found three young adults, Simon Neil, James Johnston and Ben Johnston recording Thekidswhopoptodaywillrocktomorrow, the first recorded material to come out under the name of Biffy Clyro and told the trio that in thirteen years time, they'd be regarded as one of the finest bands to come out of the UK in the past decade and that everyone was going out in their masses to buy their double album, Opposites? Chances are, they'd burst out laughing at you and try and get an offer of the drugs they assumed you were taking.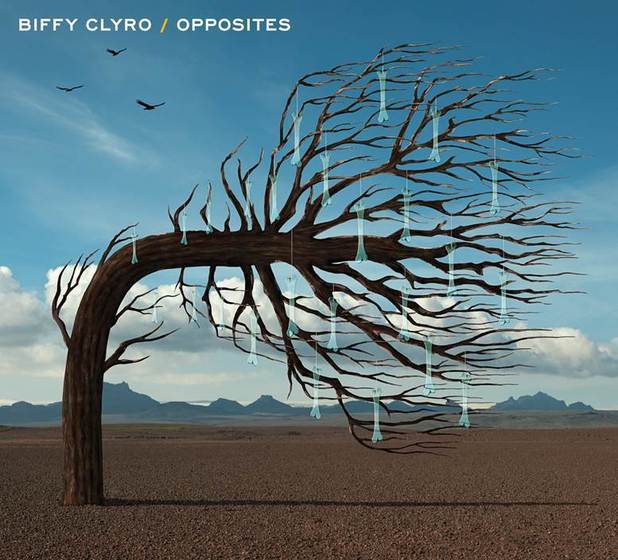 But as we all know, these far fetched fantasies of 2000 are the realities of 2013 that we can witness unfold throughout the progressiveness of the back catalogue of the Biff. From the deranged post-hardcore blasters that were unleashed from 2002's Blackened Sky to 2004's Infinity Land to 2007's Puzzle, the album that changed everything as it punched a huge dent in the face of mainstream rock and proved that off-the-wall songwriting still has it's place in a world where big choruses and melodies rule, to it's triumphant follow up of 2009's Only Revolutions, a masterclass of stadium rock grandeur that let the entire nation know what their name was, the entire body of Biffy Clyro is one that proves there really is nothing they can't do. And it should be fairly obvious, but they can tick making a double album off of that list as well.
I suppose we should start with the beginning of the album. The last time a rock double album managed to excite the world over, it burst straight into action on a song called Right Next Door to Hell, however things are dealt with a more graceful progressive manner here as the album's first part The Sand at the Core of Our Bones opens with Different People which rises to action with a grand rising of church organs that stick listeners straight into a cautious state, unknowing of what will happen next. As it happens, the rest of the song unfolds in a warm spirited manner, more delicate but equally as able to put a feeling of good hearted indestructibility within you as the instant anthem-structures of The Captain or Living is a Problem Because Everything Dies. But with a dazzling range of strong melodies and a band performance that highlights the delirium Ben Johnston puts into his drumming, it shows that Biffy are back and taking no prisoners.
From there on, the band let rip and do what it is they know best, constructing immersive works of music that covers a wide emotional spectrum and bringing in instruments and influences that show they work without any rules or constraints. Black Chandelier serves effectively as a grand retrospective of the band's full career, as it plays out as the grand stadium filler we know they are capable of that goes on to show no fear of throwing in a massive and fully heavy breakdown that harks back good memories of their post hardcore days, while the fusion of stadium filling strength and weird songwriting with irregular-time signatures rattled out by Neil forms through on the crunching Sounds Like Balloons, where's Neil's immense lyrical skills bursts out in his furious chants of "Ancient Rome, we built that fucker stone by stone/ Our fingers bled, our feet were worn/ but we stood strong and carried on."
Much of the emotion packed has a very extreme rawness. The immediate obvious tones of pain and regret that flows through Opposite as Simon announces "Baby I'm leaving here/ You need to be with somebody else" is let out with such a crisp simplicity that it can't really do anything except for break your heart, as does the niche delicacy that comes out Bliblical's tales of something beautiful reaching and end and The Thaw that weaves out pleasant memories of the early 2000's emo explosion. However, much of Opposite's songwriting trades tears for triumph. The album's second part The Land at the End of Our Toes opens with the monstrous Stingin' Belle, an opener that sounds like a heavier chuggier version of Foo Fighters' Long Road to Ruin that features riffs and basslines from Simon and James which explains why it is that they are allowed to play at festivals like Download and Sonisphere to the dismay of many metalheads. The immense melodies and sing along harmonies and chorus penmanship worked into the likes of the graceful Victory Over the Sun, which makes beautiful use of backing strings and the blazing riff fests of Pocket ought to make you feel little else but absolute joy. That and it will probably be difficult for me to find a piece of music this year that has made me smile like the outro of Picture a Knife Fight.
The music itself flows along in it's own sense of class that opts not to do the same thing twice. When the band choose to lay down on the guitars and drums they do it just right, with the likes of Modern Magic Formula, The Jokes On Us, Little Hospitals and Woo Woo are four songs that will slay live. But there's again further influences here that go beyond the band's obvious ear for the Foos, Nirvana and The Pixies. The Fog builds up to a demented outro with the droning ventures into unsettling noise that brings back vague Swans memories while the doomy Skylight builds into a territory that while spacey in it's full atmospheric backdrop carries an internal intimacy and a musical sound that is purely Nine Inch Nails-esque. On a different note, the blasts of brass backings on Spanish Radio and use of Trumpets and backings of people tap-dancing on Trumpet or Tap shows that amongst all the dramatic songwriting, there's still room for some fun. In fact the mixture of the fun and drama in those songs simply makes them more romantic. It's quite a frequent feeling on the album, it's one you can sink into and forget all the hatred that runs through the world.
But it was obvious that Biffy Clyro were more than able to make a song that could deliver that feeling of pure love without even trying. But here on Opposites, they are trying a whole lot and the result is something that puts previous work into perspective. They've cracked their effort of making in a double album effortlessly and in a manner that lies somewhere between the non stop banger collection that was heard on the previously aforementioned Use Your Illusion by Guns N' Roses while also having the ability to take you on a journey through spaces of emotions, memories and reflections of dark times gone by similar to the kind you could hear on Baroness' Yellow & Green. And that is one of the most remarkable thing to come from this. While in reality, this album is a collection of 20 brilliant songs, it feels like there's something more, like Biffy Clyro are more like the narrators of this mad music journey as opposed to just the great musicians that previous work has showed them to be. And that is a matter worth getting extremely excited about, that in this world of highly mainstream rock music, there is still room for that kind of musical ethos. And that one of the finest bands in the nation are the people to make it.
And I doubt that any thoughts like that were going through the minds of the young guys that stood recording in The Practice Pad thirteen years ago.
Biffy Clyro's Opposites is out now via 14th Floor. The band will tour the UK from March-April with City and Colour.